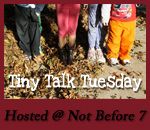 The princess is at it again.
Last week, we were running our regular errands ... library, bank, and grocery store. As we approached a light that intersected with the interstate off-ramp, I spotted another driver that I thought I recognized ... a farmer friend who lives in another town.
ME: I think that was Mr. Lee.
PRINCE:

(Who notices every farm truck and trailer en-route)

Mama, remember the man who thought our goat was a dog?
ME: Yes. That was Mr. Lee.
PRINCE: That was him.
PRINCESS: I wanna give him a piece of my mind.
She has grown quite attached to said goat and doesn't want anyone having ill-words against it.
I'm linking to
Tiny Talk Tuesday
so you can see what other cute things the children are saying.
The grass is green. It's good to be