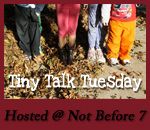 The princess had the funny this week. We haven't spent a lot of time talking about the minor holidays. This year, the prince and princess began to ask about Groundhog Day and St. Patrick's Day. The week before April 1, the prince kept asking, "When is April Fuel's

(that's the way it sounded anyway)

Day?" So, when the big day rolled around, he was ready with his little joke. Then, the princess piped in with, "Mom, it's April Fool's Day. You have to prank somebody or they will pinch you."
I guess we need to work on the holiday lessons a little more
.
I'm linking to
Tiny Talk Tuesday
so you can see what other cute things the children are saying.
The grass is green. It's good to be