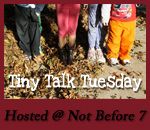 As a parent, you anticipate the day that your child will enjoy reading and writing. Sometimes it is a struggle to get them to try, and sometimes it is a struggle for them to learn. You wait for the day that they can write something on the grocery list while you are busy. Then, you dread the day they can also read the "secrets" on the Christmas list.
You start to see spelling tests that look like this:
(I really tried to make this a full sheet. It has a great big smiley face drawn on it.)
Their confidence is boosted. They start to try more writing and reading on their own ... street signs, cereal boxes, anything and everything.
Soon afterwards, you are sitting in church. Everything is going great. The prince is enthralled in a search-a-word and other items in his "children's worship bag." Then, just as the pastor is starting his message, you get a note passed to you. The note reads:
Translation: "Can we go please"
Prince Charming said to "keep it forever." Now, there it is ... for all the world to see.
While this isn't exactly tiny TALK, I'm linking up anyway.
The grass is green. It's good to be