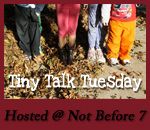 Last week, I wasn't feeling well. We had a head-cold or allergies or something yet undetermined. There were Tornado Watches and Warnings all over our area. I'm sure the weather system that brought them was not helping my sinus issues.
We were trying to get through some schoolwork. The morning started off well. (That means everyone was cooperating and in a good mood.) After lunch, I decided that we would do just a little more school and call it a day. During that time, I was trying to hold my head up and breathe. I made a noise like, "Ugh" with a sigh.
Prince: Are you o.k., Mama?

Me: Yes, I just don't feel good.

Princess: From all this schoolwork? I know how ya feel.
I'm linking up to Tiny Talk.
The grass is green. It's good to be