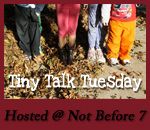 Last week on my Tiny Talk Tuesday, I said, "It has been a while since I've posted any of my Tiny Talk Tuesdays. I hope I remember all of them to share with you." Well, I forgot to tell you two of them.
On the princess' birthday, Prince Charming was teasing her about not having a present for her. He was seated on a bench and she was standing on it beside him. She had one hand on the back of his head, had her head side-by-side against his, and was stroking his beard on the other side of his face. He was denying that he had a present and she was gently insisting that he did. I was laughing at the whole scene. Prince Charming said, "I'm going to miss this when you're married." To which the princess replied, "Daddy, I'm only five!"
While we were at the Civil War Era school, we saw a bush with beautiful pink flowers on it. One of the other moms gardens a lot. So, I asked if it was a Camellia. She said that it was and the prince said, "It's not a chameleon. That's an animal."
****
Fast forward to this week:
We were in the local "mart" getting a few things. As we walked past an aisle, the prince stepped in a few feet and said, "Look Mama, hubcaps." That would have been a great find for him ... had we been in the auto department. However, we were in the kitchen area, and he was looking at drip pans for an electric stove.
****
The princess was watching a cartoon about school pictures this week. I knew the show was okay for them to watch and just listened from the other room. When the show ended, the prince said, "Mama, can we have school picture day?" Then, I said, "Sure. We can have school picture day." Then, I thought, "with all two students in your school."
I'm linking to
Tiny Talk Tuesday
so you can see what other cute things the children are saying.
The grass is green. It's good to be